Click here to see all product prices.
JAWS for windows screen reading software for the blind
From Freedom Scientific USA:
The world's most popular screen reading software
JAWS enables people with vision loss to independently use a computer with a keyboard, speech, or Braille display. With JAWS, you can navigate the Internet, write a document, create spreadsheets and presentations, email correspondence, and much more from your office, remote desktop, terminal servers, and from home.
Focus blue Braille display
From Freedom Scientific USA:
These world-class refreshable Braille displays provide access to information from a computer. The robust Bluetooth connectivity provides seamless use with Windows, Mac, iPhones, iPads, and Android smartphones and tablets. The Braille keyboard has an ergonomic layout for comfort and control.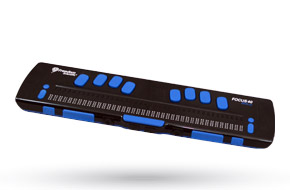 Open Book: Scan and reading solution for the blind
From Freedom Scientific USA:
Our top-of-the-line scanning and reading appliances are fast, easy, and accurate to provide speech access to all types of printed materials, including printed pages, pill bottles, recipes, and newspapers. We have a variety of products to fit your lifestyle.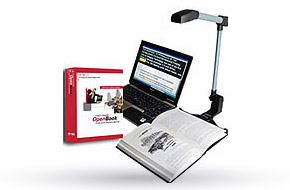 Index basic D V4 Braille embosser:
World leading tractor fed Braille embosser
From Index braille Sweden:
Basic-D V4 is a small yet powerful Braille printer. The utilization of double-sided fan-folded paper makes this desktop braille embosser great for braille in the classroom, office, or at home all for an attractive low price.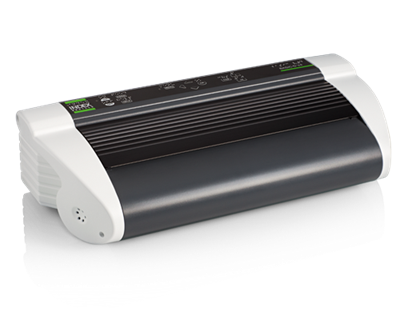 Braille Express 150: Braille embosser
From Enabling Technology USA:
Produces double-sided (interpoint) Braille on continuous form, tractor feed paper up to 13.25 inches wide at 150 characters per second. Includes a one-year warranty, a parallel and serial port and ET Speaks speech feedback. Service maintenance agreement available for purchase. Product ships with CD-ROM manual, USB to parallel adapter cable and Peacemaker Sound Enclosuree.
Viewplus Emprint spotdots: Braille and tactile graphic embosser
From Viewplus Technology USA:

- 50 characters per second
- High-Quality single sided Braille
- Industry Leading Tactile Graphics
- 300 DPI Color and Black Ink
- Sheet-fed paper
- Complimentary Translation and Graphics Editing Software
- Worry-Free Maintenance
- 1 Year Standard Warranty
Magic screen magnification software for low vision
From Freedom Scientific USA:
MAGic is a screen magnification and screen reading solution for low vision users of computers running Windows. Whether you are surfing the web, creating a document, emailing, or engaging in social networking, MAGic provides you the tools you need to work more efficiently. MAGic is designed and tested to work well on computers where JAWS is installed.
ZoomText screen magnification software
From Ai Squared USA:
ZoomText Magnifier/Reader is a fully integrated magnification and screen reading program that enlarges, enhances and reads aloud everything on the computer screen.
Features crystal clear xFont magnification, customizable enhancements to on-screen colors, pointers, and cursors, complete screen reading, easy to use document reading tools, and so much more.
RUBY HANDHELD VIDEO MAGNIFICATION
FROM FREEDOM SCIENTIFIC USA:
RUBY handheld video magnifiers provide the help that many people with low vision need to read text and see details. All RUBY models have a crisp, sharp image, high-contrast modes, and built-in LEDs. The streamlined design means RUBY can slip comfortably into a pocket or purse, giving you easy access to photos, letters, prescriptions, packaging labels, and menus, even in a dark restaurant. With its broad range of adjustable, undistorted magnification, a RUBY video magnifier outperforms a drawerful of traditional magnifiers.
BIG TRACK TRACK BALL
From Able net inc / Info grip USA:

The BIGtrack Trackball Switch Adapted has a 3 inch trackball which makes it the largest trackball available. The large ball requires less fine motor control than a standard trackball and it is ruggedly built. It has a left and a right mouse click button located behind the trackball to avoid unwanted mouse clicks. The BIGtrack trackball also allows for 2nd Mouse Connection both the BIGtrack and a second mouse can be connected allowing simultaneous participation. The bright large 3" trackball helps to make mouse movements easy and accurate. While the oversized buttons make mouse clicks simple for those with poor motor control. For even more access this switch adapted version comes with two standard 1/8" plugs for two switches. Its left and right mouse clicks have been adapted so that you can use a switch for activation. This large trackball is also perfect for kids of all ages, especially children in preschool. The large trackball is easy on little hands and is simple to use. (Switches sold separately)
The BIGtrack Switch Adapted is easy to install and works on any Windows or Macintosh computer that has a USB or PS/2 port. Just plug and play.
Super Talker:
From AbleNet inc. USA:
Super talker: An easy to use dedicated speech generating device that enables you to record up to 16-minutes of messages. Easily change the included keyguards to progress to one, two, four, or eight messages. With eight recording levels, you can record and store up to 64-messages!
Intellikeys: inteligent keyboard system
From Ablenet inc. USA:
IntelliKeys is an alternative keyboard designed to meet the needs of students with physical disabilities. It is a customizable, flat, touch-sensitive device. Unlike standard keyboards with a fixed set of keys, the configuration of IntelliKeys can be easily changed by sliding different overlays onto the touch sensitive area.
The IntelliKeys USB keyboard is only compatible with Windows XP and 7, or Mac OS X 10.6 to 10.10. The software required for this product is unstable or incompatible with the latest operating systems due to incompatibilities caused by rapid advancements in operating system technology. If this product is used with Windows 8, 8.1, or 10 the user will experience intermittent failures. This product will not work with Mac OS X El Capitan 10.11. Several software update options have been explored, unfortunately, none of them are feasible at this time. There are no alternative customizable keyboard options for the IntelliKeys keyboard at this time. However there are several large key keyboard options available; BIGkeys LX, Chester Creek VisionBoard, MyBoard, or KinderBoard.
Quick link:

Last update: Mar 28, 2016
Hits: 4431